Tips & Guides
Understanding and mastering the headhunting industry
The first impression leaves a lasting impression – so it's imperative that you get it right the first time! This means following some simple rules about hand shaking, interview appropriate attire, and what to bring into an interview.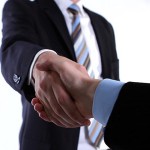 It's been the longest form of introduction across the world and still carries its weight today, your hand shake is a vital part of the first impression you give to head hunters and professional recruiters.  Recruiters meet a lot of people and they shake a lot of hands. This means they will be able to tell a good strong confident handshake from a weak, unsure, hand shake.  Don't be afraid to meet the recruiters strong hand shake with a good grip of your own. Shake their hand and look them in the eyes when they are introducing themselves to you. This shows them you are a strong communicator and ready to start the interview process.
When you are preparing for your interview the old adage "dress for the job you want not the job you have" still stands true today. Even if you are interviewing for an entry level job, or if you've been laid off, restructured or let go and are interviewing for a job that is more junior compared to what you were doing previously, you still need to dress to impress. The best approach is always business professional attire including; a business suit, dress pants, blazer, collared shirt, or skirt. Jeans, sweatpants, shorts, t shirts or track suits are not acceptable during an interview.  If you want to impress the head hunter or recruiter and stand out, dress for the position you want not the one you are interviewing for.
Finally, when you go into an interview the only thing you should be bringing with you is a portfolio with a copy of your resume, reference and any other supporting documents that the head hunter or recruiter asked you to bring.  Beverages, laptops, cell phones, or other paraphernalia should be left if possible in the reception area or better yet your vehicle. You do not want to appear cluttered and fumbling for information during your interview.
You only have 1 chance to make a first impression so give a good hand shake, dress for the part you want and leave behind everything aside from yourself and a portfolio before entering an interview and you will be off to a good start with the head hunter or recruiter you are interviewing with.
Guest post provided by Lucas Professional Search Group
Search the site
Ads
latest Articles