Local Recruiters and Employment Agencies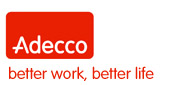 At Adecco in Toronto we know your business.Whether you need to fill temporary or direct-hire positions, we understand exactly what you do and can help you find what you're looking for. Our services include:
Looking for Jobs in Canada?
As one of the world's leading employment agencies, Adecco is always interviewing for exciting and challenging positions. Many of our clients are top companies offering competitive salaries. Find out more about some of the hottest jobs in Canada, or join our mailing lists for job alerts, by clicking on the links below:
For jobs in other fields, click here.
Source: Adecco online

109 King St E
Toronto
(
ON
)
M5C 1G6

416-646-3322

416-366-8035
Follow Adecco – HR and Recruitment Agency – Toronto on the social networks:
This recruitment agency is listed in:
Toronto
Search the site
Related links | Ads