Partners
Companies and specialists that help keep this site alive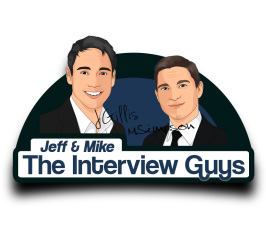 Who are Jeff & Mike "The Interview Guys"?
Jeff and Mike have taught thousands of people around the world their cutting edge job interview techniques and continue to do so day in day out from their offices in the Pacific Northwest. Their goal is to provide job getting information to job seekers in a fun and engaging way.
Jeff Gillis and Mike Simpson developed the Interview Master System from experiences Mike had struggling with job interviews himself. As you'll hear from his story Mike got fed up dealing with failed interview after failed interview to the point that he finally decided to do something about it.
After a long ordeal that involved a lot of blood, sweat, tears and more valleys than peaks, Mike finally put together what we like to call the interview master system 1.0.
It contained the core concept of what makes up the current iteration of the Interview Master System but without a lot of the online "bells and whistles" that Jeff helped infuse later on in the process.
The reason the system worked and why Mike was able to go from a service station car washer to a sports executive for a major sports franchise (The team doesn't want to seem like they're endorsing this product, so Mike's not allowed to talk about who they are…) is because it takes a radically different approach than most of the job interview books and websites that are out there.
"But wait, who's this Jeff ? I mean if Mike is the guy who came up with this whole thing, why do we need this Jeff guy??"
Well Jeff was the first guy Mike taught the system to. He was the first person to use the method successfully and actually managed to use it to get out of living in his parent's basement (at 35 i might add…which isn't pretty,let me tell you). After that joyous event Jeff convinced Mike to offer his system on the web. After all it was a repeatable process that could help a lot of people…
Jeff being a bit more technically inclined than Mike, helped him put the system together, update it for the 21st century and offer it online…which is why you are on this website as we speak!
Anyway this system has gone on to help A LOT of other job seekers deliver killer offer-getting interviews and we hope it will do the same for you!
Jeff and Mike hail from the Pacific Northwest. We enjoy our summers and fly south for the winter
Sincerely,
Jeffry Gills, Michael Simpson
Search the site
Ads
latest Articles